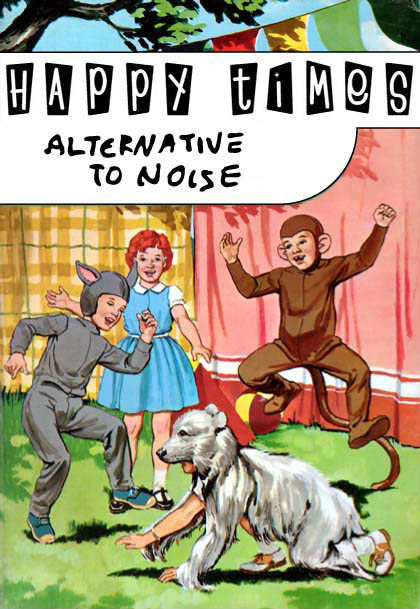 HAPPY TIMES 3: Wet-n-Wild!

Saturday, August 23, 6pm to midnight
Don't Miss! The talented Williams Sisters in our Aquatic Watershow and Cavalcade! Giant Sharks! The Ten-Minute Moby Dick! Hollywood Squares! Frankie & Godzilla in a Tribute to Bob Hope! Hurricaine Music! & so Much More!
Free CD/CD-Rom to the First 20 in the audience!



HAPPY TIMES 2:
the performance marathon you've been waiting for

Saturday, January 11 6pm to midnight
FREE! but a $5 donation is encouraged. ($3 for seniors, students and starving artists).

HAPPY TIMES is the second annual performance marathon at the Afa Gallery--no intermissions, no breaks, no pauses, no gaps, no in-betweens: it never stops. For six hours, 10+ performers will keep the space alive with the arcane enery that results from the collision of the Planned and the Improvised.

Featuring Mike Benedetti, Jason Sherry, Vanessa Norton, John Baldino, John Bert, Connie Sinavage, Michael Paulukonis, Alicia Grega-Pikul, Wayne Feldman and Matt Bonewicz.

The audience is not expected to stay for the the entire six hours, but to treat the event as a "smorgasbord" of entertainment--stop in, taste a few dishes, maybe go out to see a movie, then come back for dessert. All are welcome to stay for the entirety, and perhaps even join in!

For further information, please contact Michael Paulukonis at 570.383.0251, or via email.

Some links that might also give some ideas as to what you might expect and/or perform yourself:

Happenings
Happenings 2
Fluxus History
Fluxus Bulletin Board not updated since 1999 :-(
Fluxus Photos text in French. Practice!
UBU Web Visual Concrete & Sound Poetry
Fluxus Homepage LOTS of scores
Ken Friedman: I'm the First Norwegian in My Family
Ken Friedman 2: 30 Events and Objects
Event Scores by Alison Knowles
Event Scores by George Brecht
Event Scores by Emmet Williams
Events Scores by Ben Vautier
A review of a Geoffrey Hendricks performance
Invented Rituals: Geoffrey Hendricks

Some Helpful (?) Notes

The title, Happy Times, is taken from the cover of a children's reader published in the early 1950s. It features three happy boys dressed as a monkey, a donkey, and a dog and what looks like a terrified, shocked or bemused little girl. Sans costumes, I think that may describe what will be occurring that night…..

The six hours will be filled: not chock-full-o-nuts jam-packed, but there will be at least two or three "things" ("events") going on at all times. For variety's sake, sometimes more, sometimes less. But always SOMETHING for the six hours: no intermissions or breaks (in the performance) [although the performers may escape to another room from time to time]

For you "legitimate" theater folk out there, this is something else. There will be no one stage: the "action" will be occurring throughout the gallery, around and amongst the audience. There will be some seats for the audience. But they won't be treated as nailed to the floor.

The performers and events affect and effect and modulate each other, much as the individual dots in a pointillist painting: the blobs of red and blue are painted separately but are perceived as other (purple). At times there will be an overload of information, other times, something obscure that tickles the brain with hinted meaning will eke out a slow existence until new events distract the viewer. Or not. With a multiplicity, the viewer can pick and choose between events, as amongst the thousands of satellite channels on TV or radio-but again, each of these stations is interwoven with static (?) from the others…..

As we learned at last year's event, no matter how much we prepare, we won't have enough material. Which is great! For it's precisely when we run out of stuff to do that the magic starts.... we do events and routines we had decided not to do; we repeat an event of four-hours prior with a twist, we suddenly find ourselves "onstage" with a prop in our hand and no idea of what to do with it, and 20 people staring at us expectantly.



some things that SHOULD happen this year:



Puppet Theatre permanent installion in a corner of the space of my green-trunk-on-a-chair puppet-stage with various toys and puppets. There will be Frankie & Godzilla (from Mr. Stein's Neighborhood Street) shows, the puppet version of the popular teen-existentialist movie "Dude, Where's Godot?", a pirate-puppet sock extravaganza authored by Chloe K, and more.

Astronomy for the People Salutes Broadway: Mike Benedetti & Michael Paulukonis (& various cohorts) rev it up with their de(con)structions of Broadway showtunes. A partial memorial (however unfitting) to Adolph Green.

Sonic Installation from Wayne Feldman

SWEATERS by Vanessa Norton. A one-woman exploration of wardrobe.

Di Kats der Payats: selections from the Yiddish translation of The Cat in the Hat recorded by the translator via telephone, a mini-disc recorder, and far too much other technology.

Musical Contributions from Matt Bonewicz, Wayne Feldman, Mike Benedetti, Vicki Ross and others.

Live Painting by all and sundry.

Aguila o Sol o Ciclon? A spoken-word piece from Mike Benedetti for six performers and audience. Three performers will be reading in Spanish. Practice, practice!!!! Mr. Benedetti will also present The Appalachian Trail: Live! on Stage and 5 Biographies or The Lives of the Saints

Connie's Box: a half-hour-or-so-work wherein performers AND audience suddenly interpret Ms. Sinavage's "poems".

"The Match Game" Mike Benedetti hosts this year's game show with fabulous prizes for the lucky winners!!!!

A FREE CD!!! for the first fifteen audience members to show up! Featuring selections from Mike Benedetti's Appalachian Trail Interview Project, Di Kats der Payats, and more.

Contributions from anybody who stops on in!
Encourage your friends and neighbors to not only "come on down"-but jump in as well! The water's fine!



Where are we going?
I don't Know.
When will we get there?
I ain't certain;
All I know is I am on my way.
--Paint Your Wagon


What Will Happen?!
--Jack Keraouc
some things that DID happen this year:

Mike Benedetti responds:



Any "free-form" performance piece contains too much stuff for anyone other than a dedicated observer to catch it all--as a performer, I think I only notice 10%. All the more so for something like the 6-hour Happy Times. For example, John Bert was always doing rad stuff, most of which I only caught out of the corner of my eye while doing something myself.

That said, here's what I'll remember ten years from now:

* Rachel, covered in nylons, rope, and fishing line, dragging a cinder block across the space

* I could write paragraphs about the mighty mighty Match Game (thanks, Mark), but amongst all the cheating (Connie!) and recycling (Wayne!) what stood out was: "Billy lost his..." (Matt jumps up. Matt swings his chair into the air. Matt slams his chair against the floor. His chair shatters.) "...TEMPER!!!"

* Connie's Box

* "One Thousand Wax Sandwich Bags On The Roof", the world's first all-wax-sandwich-bag-musical. A surprising mix of surrealism and crowd-pleasing fun. "What the hell is this box doing here?!"

* The huge pile of crushed newspapers, and the various collages. All the faces taped to the inflatable table.

* My own contribution, when a TV reporter had prepared his equipment to interview me: "TURN OFF YOUR TELEVISION! IT'S POISONING YOUR MIND!"

* The music, always interesting, often supportive of other performance, and never intrusive

* Alicia entering the gallery, rubbing up against me for a minute, reading a children's book, and leaving. That's the way to do it.

* Chloe's photos of the performance are great and pretty much comprehensive

It was a privilege to work with Scranton's Finest, and an extra treat to entertain an audience while doing it.

-- Author MIKE BENEDETTI, with Michael Radford, Mr. Chris DuPuis, Kurt Revis, Jon Lange, and Adam Villani, is a founding member of the industrial-zydeco band Stale Urine. In 2003 they will present a series of concerts to commemorate their 10th anniversary.